By Richard Gibbons | Jan. 3, 2017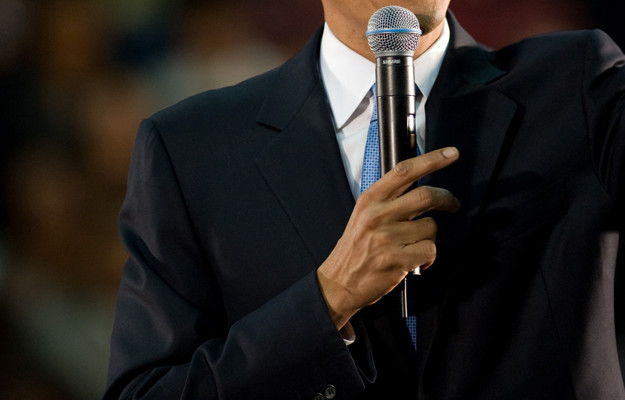 Whether you're planning a large-scale event or a convention, there are many things to consider, and one of them is whether to hire a keynote speaker. Speakers have become a fundamental part of successful events, and they can offer an excellent return on investment for your organization in a number of ways.
From a prominent local personality to a highly successful industry leader, a quality keynote speaker offers your event attendees engaging and relevant content, provides them with information and education, and adds to the excitement and "buzz" around your event.
Here are a few reasons to make a keynote speaker part of your event plans:
1. Keynote speakers set a specific tone for your event.
If you've ever seen a barbershop quartet or an a-capella group perform, remember how one member will play a note before the song to get the group in harmony? The right keynote speaker does the same thing for your event. No matter at what point in your event the keynote address happens – whether it's the kick-off, the grand finale, or somewhere in the middle – your speaker can help crystalize the overall message of your event for attendees.
2. Keynote speakers can boost conference registration.
If your speaker is someone well known or with a solid reputation in the industry, people will want to come to your event just to hear what he or she has to say. Having a reputable and popular keynote speaker to headline your event helps draw attendees.
3. Keynote speakers lend your event credibility.
A speaker with a strong reputation and a high level of expertise gives your event an air of authority and validity for attendees. Having an expert on the agenda lets attendees know the event is worth the time and expense of attending. The speaker's expertise and credibility also reflect back onto your organization, causing guests to view your company as an authority as well.
4. Keynote speakers engage and inspire.
The best keynote speakers bring a powerful message that can capture an audience's interest and imagination. When you hire a speaker who brings a thought provoking message that fits with your event's overall goals, your guests leave feeling inspired.
5. Keynote speakers provide education and information.
Do you want your guests to leave your event with new skills and knowledge? If so, hiring an industry thought-leader is an excellent way to accomplish that goal. A keynote speaker who brings a high level of expertise in a specific area can teach provide tangible take-aways for your attendees.
6. Keynote speakers can provide entertainment.
Keynote speakers are more than simply experts in their field. The best keynote speakers have dedicated time to honing their message, delivery, and public speaking skills to make them entertainers as well as educators. Some speakers even specialize in the entertainment aspect of the public speaking and, depending on the nature of your event, someone who makes the audience laugh may be what your event needs.
---
Written by Richard Gibbons
---