By Leah Doyle | Feb. 14, 2020
Meeting planners have spoken, and we listened!
We recently partnered with top marketing author/speaker Jay Baer and our industry friends at Michelle Joyce Speaker Management to survey meeting planners and compiled the data into this free report.
On the subject of the selection of and investment in a keynote speaker — and what matters to them and their audiences — meeting planners are clear: it's about substance, not showmanship.
We asked, "What Are The Top Things You Want In A Keynote Speaker?"
One half to two thirds of professional planners cite specific knowledge and demonstrated expertise as the top two criteria on which they base their hiring decisions. More important than being inspirational, funny, unique, a celeb or anything else, they want the real-deal speaker who is smart about their subject.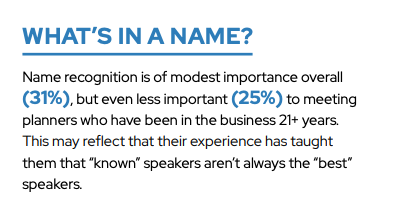 In addition, they want their speakers' content to be tailored and to match expectations. Boilerplate speeches and bait-and-switch presentations are cited by three-quarters of meeting pros as the top two things that annoy them about keynote speakers.
Speakers don't need fancy laser shows, tech riders, or to be big promoters — rather, do what you say and talk to their people. A little personalization goes a long way.
Download our full report for the results and analysis of 150 professional meeting planners surveyed and find out what they are looking for from keynote speakers in 2020.
---
Written by Leah Doyle
Leah originally joined SpeakInc in 2006 and currently serves as their Marketing Coordinator. Originally from Southern California, Leah is a graduate of San Diego State University. She currently lives in Jacksonville, FL with her husband, John, and their two children. If she's not taxiing her kids to the ball field or dance studio, you can find her at the beach or a local coffee shop!
---