By Leah Doyle | Feb. 2, 2021
SpeakInc is excited to sponsor an exclusive discussion with leading keynote speakers Shane Snow (author of Dream Teams; Smartcuts) and Jay Acunzo (ex-Google/ESPN, current podcast and documentary host/producer) for the next installment of the CEMA Webinar Series.
As a longtime partner at SpeakInc, it's always exciting to sponsor cutting-edge industry leaders who bring their "A" game to every session. These two are no exception.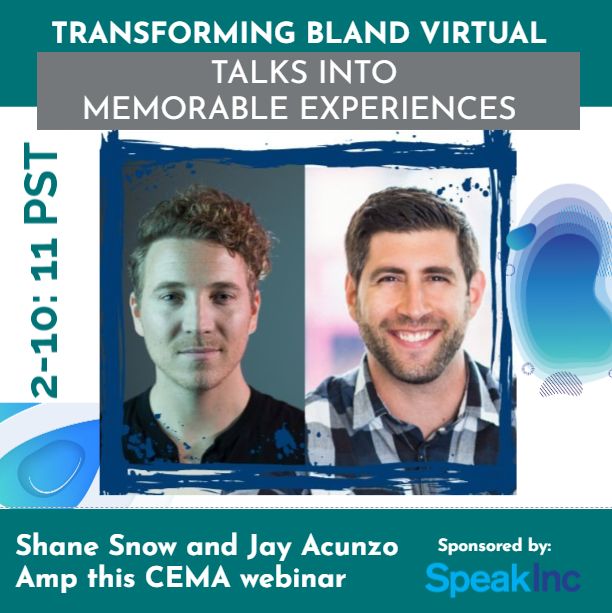 Shane and Jay will take a deep dive into the process that can help all of us kill the stigma event professionals currently battle against -- that virtual events are cheap imitations of their high-impact, in-person cousins.
The longer we allow webinars to become the substitute for unique, memorable offline events, the more at-risk our entire industry becomes. Yes, virtual events are different than in-person -- but different shouldn't mean worse.

You don't want to miss this! Register now for the FREE online event. CEMA membership is not required.
---
Written by Leah Doyle
Leah originally joined SpeakInc in 2006 and currently serves as their Marketing Coordinator. Originally from Southern California, Leah is a graduate of San Diego State University. She currently lives in Jacksonville, FL with her husband, John, and their two children. If she's not taxiing her kids to the ball field or dance studio, you can find her at the beach or a local coffee shop!
---